The open NOMEN fairlead lifts lightly over the deck forming a gentle open-centred aluminium bow in proven NOMEN design. It has two internal polyamide guide pulleys pivoted on stainless steel shafts.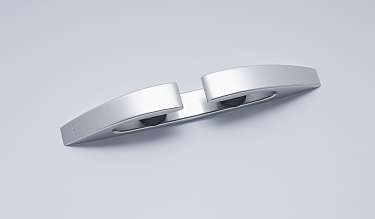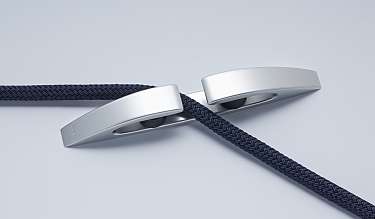 _Design & Function
In contrast to the closed version, our open fairlead is not screwed into place from above, instead it has four threaded rods that are pushed through the deck and fastened with nuts from below. Not a screw in sight! The open NOMEN fairlead impresses with its simple elegance and can be used in two ways.
1. The rope is simply placed in the open central guide for quick and easy mooring.

2. There are two outer closed guides for secure mooring.
Special one-off designs for the toe rail
To ensure the overall harmony of boat and fairlead, we can integrate the NOMEN fairlead in the toe rail of your boat. To do this we coordinate our data with your yacht designer. We look forward to hearing from you.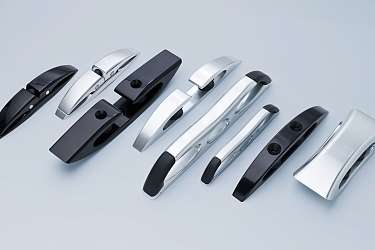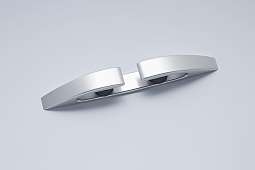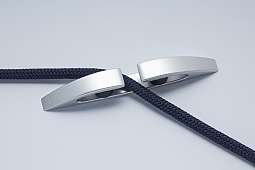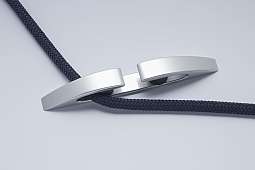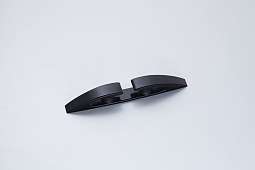 _Details - Open Fairlead
Other sizes are available on request. The fairleads should be chosen to match the sizes of the cleats.
Fairlead open 250
Total length
for Ø leash 18 mm
Fairlead open 300
Total length
for Ø leash 22 mm
Fairlead open 400
Total length
for Ø leash 28 mm
_Installation
The NOMEN fairlead is installed via the four threaded rods that are screwed into place with nuts below deck.